Penitas Hosts Law Enforcement Luncheon

In appreciation of our dedicated law enforcement agencies that serve and protect our communities and our families, the City of Peñitas hosted the 2nd Annual Law Enforcement Luncheon to commemorate National Police Week.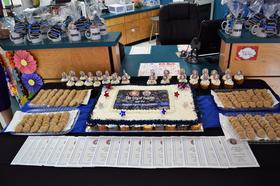 Special guest speakers included Peñitas Mayor Rigo Lopez, Ricardo Rodriguez Hidalgo County District Attorney, Mario Lopez from the Hidalgo County Sheriff's Office, City Chaplain Pastor Juan de la Garza, Peñitas Police Chief Roel Bermea and Assistant Police Chief Alejandro Morales. We would like to thank the representatives from law enforcement agencies and other entities that were in attendance, including the Peñitas Police Department, Penitas Fire Department, US Border Patrol, La Joya ISD, La Joya ISD PD, Texas Department of Public Safety (DPS), Hidalgo County Sheriff's Office, City of Mission, Hidalgo County Constable's Office, Palmview Police Department, Sullivan City Police Department, as well as city officials, employees, volunteers, and community members. On behalf of the City of Peñitas, we appreciate our law enforcement officers for helping to keep our communities safe!