Councilmembers Sworn Into Office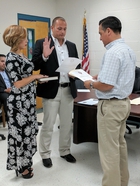 The City of Peñitas held a swearing-in ceremony for councilmembers Alex Guajardo and Felipe Quintanilla, who were sworn into office by Peñitas Mayor Rigo Lopez.
The councilmembers were elected into office after running unopposed in the May 2017 election. In addition to the councilmembers' family and friends, notable local elected officials were in attendance at the ceremony, including Mayor Fito Salinas of La Joya and Mayor Jerry Perez of Palmview, as well as newly-elected Mayor Leo Garcia of Sullivan City. Board members of the La Joya Independent School District and the Agua Special Utility District were also in attendance at the ceremony to congratulate the councilmembers.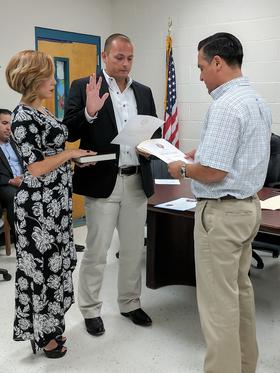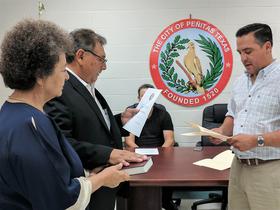 Councilmember Alex Guajardo, Councilmember Felipe Quintanilla
Councilmember Guajardo was initially appointed in October 2012 and was elected into office in 2013. Guajardo, Athletic Director for La Joya Independent School District, is married to Roxanna; they live in Peñitas together with their son, 12, and daughter, 7. Councilmember Quintanilla was appointed in January 2017. He is a retired business owner in Peñitas. Quintanilla and his wife Juliana have three children and five grandchildren.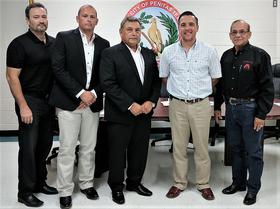 The Peñitas City Council
Congratulations to Councilmembers Guajardo and Quintanilla!