Community Advisory
Published on Jul 13, 2018 at 12:08p.m.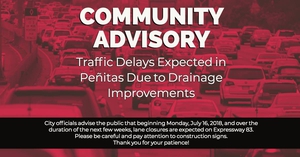 In an effort to improve the city's drainage system, the City of Peñitas is assisting the Hidalgo County Urban County Program and Hidalgo County Drainage District #1 on a drainage improvement project. Due to the construction of the project, city officials advise the public that beginning Monday, July 16, 2018, and over the duration of the next few weeks, lane closures are expected on Expressway 83.Residents, business owners, and drivers passing through the city should anticipate increased traffic, detours, and limited access to areas affected by the construction.

The project will affect both eastbound and westbound lanes of Expressway 83 between Main Street and Loop 374 in Peñitas. As the drainage system is constructed and put into place, city officials urge motorists to exercise caution during the construction period, to remain aware and drive safely through construction zones, to heed detour instructions, and to follow all caution signs. Most importantly, city officials encourage and appreciate everyone's patience while they work to improve drainage for the City of Peñitas.

Construction is expected to be completed in a month.
More:
Stay In Touch